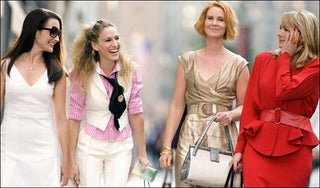 S
Sex and the City premiered in London yesterday and the reviews — and spoilers — are rolling in. So far, the responses to the film are mixed. Fox News loved it, the Times of London gave it two stars out of five, and everyone, including The Sun, thinks that, clocking in at over two hours, the movie is way too long for a romantic comedy. So about those spoilers: Well, contrary to the numerous internet rumors, no one dies. Apart from that, much of the stuff that's been leaked was actually the stuff that we hypothesized from the screen grabs we were able to grab from the trailer.After the jump, a list of details that don't give away too much of the movie. (P.S. No one has divulged the ending yet.)
After spending 6 months in a sexless marriage, Steve cheats on Miranda and they break up, perhaps just temporarily.
Samantha lives in Malibu with Smith, and is struggling with monogamy.
Charlotte get pregs.
Carrie has written at least two more books since the series ended, and she is still writing for Vogue.
Her EIC at Vogue (played by Candice Bergen) asks Carrie to be featured in the magazine's age issue as "the 40-year-old bride," which explains all those wedding dresses and scenes of a photo shoot with Patrick Demarchelier.
Big's real name is John James Preston. So very Federline.
Carrie gets jilted at the altar.
The girls all go on Carrie's Mexican honeymoon with her.
There is a totally pointless visit to New York Fashion Week which has nothing to do with the plot.
The movie has a happy ending.
But the ending is left wide open for what the studio hopes will be at least two more sequels.
What the Times of London had to say:
There may be a problem with a film when a narrator constantly tells you the meaning of what you have just seen, gift-wrapping each scene with a moral.
What Fox News had to say:
[Michael Patrick King] remade 'The Women' as if Jacqueline Susann had written it and it was for the 2000s. There are times when the clothes make the movie feel as though you're watching 'The Jetsons.' One odd thing about 'Sex and the City,' which still doesn't make sense: we never see of the girls' families. Carrie's elaborate wedding doesn't include even a mention of parents or siblings. Charlotte's pregnancy, ditto.
'Sex and the City' Inspired by Jennifer Lopez and Ben Affleck
[Fox News]
Sneak on Sex and the City
[The Sun]
First review: Sex and the City
[London Times]
Earlier:
OMG! It's The Sex And The City Movie Trailer!