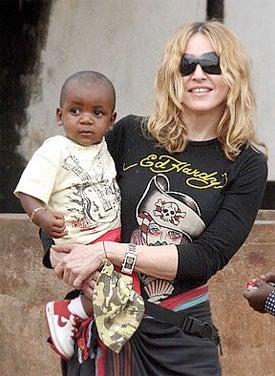 A few weeks ago, Latoya Peterson, editor of the blog Racialicious, emailed me to proffer compliments over the success of the site and talk about Jezebel's coverage of racial issues, which, she explained, she wasn't particularly thrilled with. After a few email exchanges, I called her, and we talked for what seemed like hours. We did the same the following day. And, (if I remember correctly) a few days later. Although I didn't always agree with her assessment of our content and the intentions behind it, I found her and her commentary to be intelligent, charming, sensitive and, of course enlightening... so much so that I decided to recreate part of our conversation over email so that commenters could weigh in. After the jump, Latoya and I discuss reader complaints, accusations of colonialism, coverage of Third World countries, and how to deal with issues of "the patriarchy" abroad without being patronizing.


ANNA: A few weeks ago a reader wrote in to me complaining about the items we've
done on women in, specifically, India, saying that she was sick of the fact that we link to the more horrific stories regarding women and girls on the Indian sub-Continent...rape, murder, abuse, etc. The blog post she was upset about regarded a piece in a British paper we linked to about pre-teens selling their virginity to adult men in India in order to financially help their families. The reader referred to our — and by "our" I mean the editors and the commenters — "smug First World selves" and railed against our collective "ignorance" and "condescension". I responded to her saying that I understood where she was coming from but that in terms of stories about women and India, we were strapped: 99% of the stories that concern women that we find coming out of that area of the world are negative and/or upsetting, and we don't even post 90% of THOSE. I added that we work with what we can find, which, in the English language media, is coming either from American news sources, British news sources, or news sources in India that are available in English. We want to acknowledge the problems and horrors faced by women in other countries, but we often get attacked for doing so. What are some tactics that we — and other American, Western media properties — can approach these with more sensitivity?