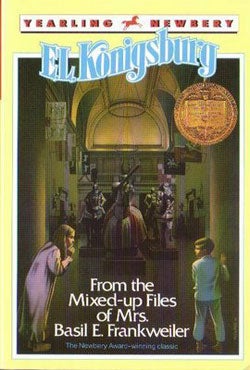 Welcome to 'Fine Lines', the Friday feature in which we give a sentimental, sometimes-critical, far more wrinkled look at the children's and YA books we loved in our youth. This week, writer / reviewer / blogger Lizzie Skurnick rereads 'From The Mixed-Up Files of Mrs. Basil E. Frankweiler', E.L. Konigsburg's 1967 novel about extremely unaccompanied minors run amok at the Metropolitan Museum of Art.
Claudia knew that she could never pull off the old-fashioned kind of running away. That is, running away in the heat of anger with a knapsack on her back.



I miss New York. Not the New York somewhere over to my left. A New York before The Squid & The Whale brought divorce to the Museum of Natural History. A New York before nannies got groped; a New York before private-school girls intertwangled lustily on beds in some benighted plan to rule the school. It was a New York that had room for a notepad-toting minor to spy unaccompanied on people through dumbwaiters; a boy to wander Chinatown having adventures with a cricket; teenagers to contend with a genie in a mystery at the Cathedral of St. John the Divine. Not a world where children playact adult dramas, or unhappily contend with the chaos adults leave in their wake. It's a New York that keeps adults perpetually at shoulder-level, briefcases and purses jostling, while the children, front-and-center in the frame, get up to whatever children get up to.