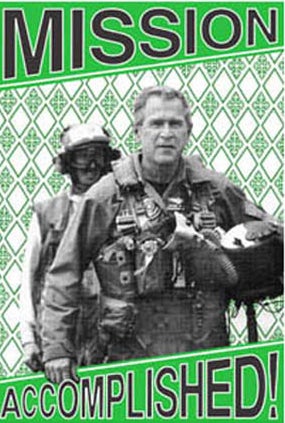 In which we adopt the persona of Women's Voices. Women Vote robocaller and misinformation chief Lamont Williams, if he only had a voice.
Yo voters, this is Lamont, calling because you need to register to vote. Oh really? You already registered? But did you ever receive the packet? Did you send in the detailed form? Because we explicitly stated on every packet that you were required to send in the form. All right, to be sure, you are not required to send in the form to vote, per se, but to be registered. And you need to register! To vote. Women's Voices, Women Vote has even kindly provided me with some dates and deadlines, although they are mostly, to be honest with you sisters, completely arbitrary and false and I suspect only generated to elicit the sort of mass confusion popularized by Karl Rove, but I'm a cynic. Five years after Bush said so, I also don't believe, ladies, that the Mission was actually Accomplished, or that Saddam Hussein orchestrated September 11, or that Guantanamo is really such a decent place to retire. And as far as I know, Barack Obama isn't Muslim and the United States did not invent AIDS, but maybe I am paying too much attention to these two winos named Moe and Megan...
MOE: Oh look at this, Obama's "aura of inevitability" has diminished. Remember when that happened to Hillary? How can we ever democratically elect a president if he/she doesn't have that "aura of inevitability"? It's unamerican!
MEGAN: You have to have an aura of inevitability, it's sort of like an aura of infallibility and of course the President is infallible!
MOE: This is uplifting. Troops don't want to seek counseling for their psychological/psychiatric issues for fear it will hurt their careers. And with good reason: up until now you've had to given extensive interviews if you report that you've sought mental health help when applying for security clearance.
One in four of the troops surveyed said he or she knew "nothing at all about effective mental health treatments for issues that may arise from their service in a war zone," Robinowitz said.

MOE: Michelle Obama still rules:
The interviewer later prefaced a question by saying she wanted to "turn the page" from the Wright controversy.
"No, you don't," Mrs. Obama replied.

MEGAN: Ok, yeah, that sort of kicks ass.
MEGAN: Anyway, so, the mental health in the military thing, it's sort of like Dodai wrote only with greater consequences. Also, it's my experience that your can get a clearance as long as you're honest about stuff, it just takes longer.
MOE: Sometimes Dick Cheney really sorta steps out of character, you know?
MEGAN: Sometimes, it just seems like he's fucking with us.