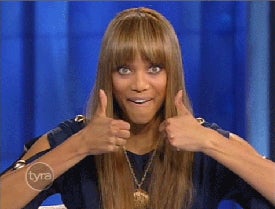 Tyra has a lot to celebrate: Today marks the 500th episode of her talk show, which, we learned this morning, has been nominated for a Daytime Emmy (this year in a different category, "talk show/informative" instead of "talk show/entertainment"). TyTy was a guest on The View today, and she let us know that New York City Mayor Mike Bloomberg has christened April 30 "Tyra Banks Show Day." (Unlike Mariah Carey, however, Tyra is not getting her signature colors shown on the Empire State Building.) So in honor of this very special occasion, we've compiled some of our favorite clips from Tyra's Emmy-nominated third season. Pack your bags, y'all, we're going after the jump.

Click on thumbnails to view clips:
Jezebel Crashes The Tyra Show's Vaginas Episode
Three Jezebel editors (Moe, Jennifer and I) tried to go see Tyra's interview with Barack Obama, but instead we ended up as part of the studio audience for her "Vagina Dialogues" episode, in which we watched a woman use a vagina puppet to explain that we have two holes down there! Who knew?