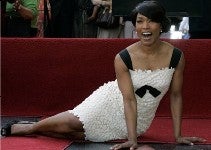 *Inspired by Shirley MacLaine's assertion that the best parts for actresses fall into one of the above categories.
This week in Hollywood casting announcements: plenty of potential victimization for Tinseltown's bold-faced beauties. (Victim characters, of course, are easy to spot: They're usually described as "troubled" or have a "tortured past," have "suffered" a "crisis," are "surviving" and "learning to move on" from their rape/brutal attack/illness...take your pick!) After the jump, take a look at the newest roles for Angela Bassett, Nicole Kidman, and America Ferrera and see how they stack up on the actress-cliche scale.



• Angela Bassett, ER: Bassett will be playing a troubled doctor who comes back to Chicago after doing tsunami relief in Indonesia. Her arrival promises to "shake County General's ER to the core." Verdict: Well "troubled" usually translates to "victim," although a victim usually doesn't shake a television series to it's "core." She might be playing a shrew as well.