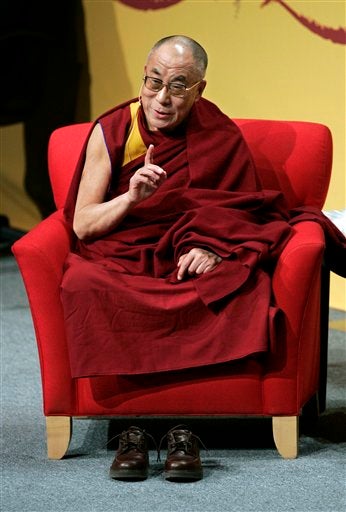 Here's a ray of sunshine to anyone who ever wondered if their massive personal reserves of good karma were never going to amount to anything: the Dalai Lama just scored a meeting with the government that excommunicated him in 1959! Oh sure, and the cops who killed that nice unarmed electrician the day before his wedding got acquitted, Mugabe is doing everything in his power to undermine the will of his electorate and McCain wants to cut taxes, but sometimes you just gotta ignore the haters and say to yourself, "It's Friday, y'all! And guess who's going to China? The DALAI FUCKIN LAMA." Megan and I discuss what the Dalai Lama was like in high school, and the accuracy of the Hillary as Tracy Flick meme, ATJ.
MEGAN: Hey, it's Friday. Do we care about anything today or are we just too fucking apathetic?
MOE: Let's play hooky like the Obama kids!
MOE: Anna IMed me like "yeah I was going to send you some links but I figured you had seen them all already."
MEGAN: I never played hooky until college, and rarely then.
MEGAN: Mostly I just skipped my computer science class, which taught me such epic things like how to use MS Paint.
MOE: Oh, my god. i was really good at skipping class.
MOE: In college it doesn't count because if you skip class you are wasting a lot more money
MOE: If you skip class you're a tool.
MOE: In high school I used to skip class to drive to Georgetown and sit in on other classes.
MEGAN: Well, I overloaded to take that required class, so it was like skipping something extra I wasn't paying for. Plus, MS Paint? I think we can all agree I probably didn't need to learn that.
MOE: Oh god. The slayerverse. Will you explain to me what the fuck that means? Never mind, I'll ask Don "Man is the bastard" Malkemes.
MEGAN: It wasn't my idea, I just executed it.
MEGAN: Oh, well, we could talk about what kind of high school kid the candidates are.
MOE: Whoa did you read about McCain's new clueless misguided war on poverty? Oh no you're right we should def talk about high school.
MEGAN: Because, of course, we will never escape high school. Fuck high school.
MEGAN: I left my town to escape high school only to find out that DC is like a really big high school, only slightly more incestuous. Here, it's like Lord of the Flies for nerds all trying to make up for nerdiness in their youth by being the top of some weird social heap.
MEGAN: Anyway, so, Hillary is apparently Tracy Flick according to everyone in the universe, so we need to come up with some other cultural touchstone to start calling her because she's played out. I'm suggesting Elizabeth from the Sweet Valley High books, but I'm open to suggestions.
MOE: I hated high school so much I actually repressed most of the memories as to why I hated it. I've noticed, though, that the alcohol I drink now is better than that of my youth.
9:10 AM
MEGAN: I was so focused on getting the fuck out of Scotia and my parents' house that I didn't hate it as much as I could have. I just kept looking down the hall the whole time. And I never drank or did drugs or anything because there was no fucking way I was getting stuck at SUNY Albany (where my dad works).
MOE: Obviously I'm not too concerned with finding new less fraught cultural touchstones through which to view Hillary. HowEVER. Have you watched the high school newspaper show? The main kid in that, the ed-in-chief, is kinda Hillary.
MEGAN: I mean, is that why so many Jezebelles seem to (ahem) slightly overly identify with her on a personal level? Because she's us? I'm not going to say I wasn't like that. I ran an elderly volunteer program, worked for another, was President of SADD and the German Club, was in drama club, on the school newspaper briefly and took ballet, tap and jazz lessons.
MOE: Oh man, high school was so miserable I completely lost all sense that there was a world outside it. So yes, I drank and did drugs. It was kind of awesome. I love days like this when I remember how awesome it was to wear the kilt with birkenstocks.
MEGAN: I went to public school. I went through kind of a hippie bell bottom phase.
MEGAN: Ok, or we could talk about McCain's Katrina speech, which is totally part of his insane poor people tour.
MOE: Yeah I touched on that in yesterday's news roundup. And then I went out for about six hours of drinking —it's just like a juice fast if you stick to beer! — during which the food crisis was clumsily discussed. And I promised I would find out whether the United States, like China, has formidable reserves of food.
MEGAN: I don't think we have a food reserve like we do an oil reserve.