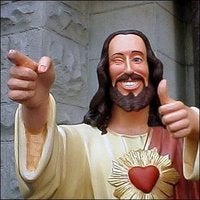 You know how super-Christian girls like to say "Jesus is my boyfriend"? Well, in honor of the Pope's visit we got to wondering what kind of boyfriend Jesus would be. Luckily, my friend Don is reading the Bible. (He finds this stuff interesting because he grew up atheist.) "I kinda like Jesus!" he announced yesterday. Uh-oh! "Like," he went on. "You know why you guys don't keep Kosher? Because one day Jesus just said, that's bullshit, it's not what you put in your mouth that's the problem, it's what comes out of your mouth." (Have fun with that, Don's friends who stayed vegetarian!) So basically Jesus was that guy who, when he wants to go and you're like, "okay, hold on, let me just lock my house and let the dog out," suddenly reverses course and accuses you of ruining everything and having no faith. This was far from his worst trait, however.
He was also an inveterate freeloader, and worse, sanctimonious about said freeloading, and even though his friends were all kind of varying shades of shitty people, he was the ultimate "Bros Before Hoes" type. Probably because the only girls he hung out with were whores. Herewith, Don's guide to why you should let your dude friends read The Game instead.
What Did Jesus Do? (So You Can Do What Was Did)
Ten and six months ago, I eschewed the books I was unwittingly reading to impress women, and picked up the King James version of the Holy Bible (the most popular remix in America). I'm left with at least two certainties: Christians do not read this book, and Jesus was a total asshole. I really like the guy. He's the avatar of the "Fuck that noise" godhead. He's in his early thirties, broke, down for hanging out, and not really looking for a relationship at the moment. He's simultaneously what I am and what I hope to be. Here are a few things Jesus taught me, that you can use against the WWJDers. Fuck what He would do. This is what He did.