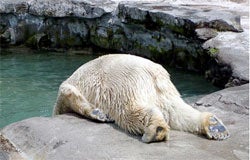 We were so into the Fundamentalist Church of Latter Day Saints and their Yearning For Zion Ranch, where girls in their early teens get married off to gross molesty old men with multiple other wives, none of whom are allowed to wear red because that's Jesus' color.

Are those teens better, or worse off than the brave 8-year-old Yemeni girl name Nojoud Muhammed Nasser who was married off by her crazy homeless father, but has now successfully filed for divorce.

A study in contrasts: the marriage of Nojoud Muhammed Nasser versus the insane Southern belles of MTV's True Life who call themselves "old maids" at age 24.