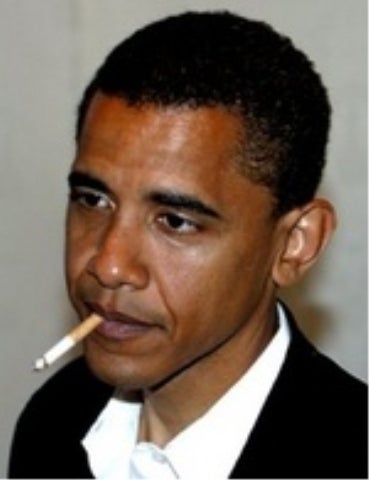 Barack Obama does not want to bribe block captains in Philadelphia to get out the vote. Wait, you're allowed to bribe block captains to get out the vote in Philadelphia? Why yes, it's called "street money," and like most money in Philadelphia, it is relatively scarce, which is why people trust it, in lieu of "democracy", which was supposed to have declared victory on the Big Ideological Battle of the twentieth century, but the problem is that was a comprehensive crock of shit, with apologies to Francis Fukuyama, who taught the only class I ever really did the reading for and is a fantastically smart guy, but when you're starting out in this business you have to make bold pronouncements, such as "Look, history is ending!" because that's what gets the clicks and pays the bills, much akin to prostitution. Megan and I discuss all that and Martin Luther King's incest-loving confidant after the jump.
MEGAN: Um, prosecutor dude? Most 63-year-old women don't really menstruate.
MEGAN: Also, the whole thing just makes the prosecutor sound like en enourmous douchesack.
MOE: Um, and speaking of sex crimes...James Bevel WTF. The septugenarian MLK BFF is going to prison for incest. Feeling up his daughter = science class!
Hoffman asked Bevel whether he had ever rubbed Machado's chest — another allegation she has made but one that is not part of this criminal case.
"Yes, I have engaged in rubbing [her] chest in an educational context," he said. Bevel testified that as a minister and a teacher, he has educated people, including his children, on the "science" of sex and marriage.

MEGAN: I got nothing but ewwwww. Also, isn't it just straight up molestation? Why incest?
MEGAN: Since she was SIX FUCKING YEARS OLD.
MEGAN: Also, I love that his defense lawyer played a video of the pervert with MLK in order to try to get the jury to reduce his sentence for molesting his daughter, even though everyone testified she was neither his first nor his last victim.
MEGAN: Especially given what I know about how the King family treats scholars that wish to use their archives (but remembering that they sold his Lincoln Memorial speech footage for a telecomm commercial).
MOE: Fuck if I know honestly. He's 71 so it's sort of a moot point. He was sentenced 15 years. Isn't incest also a worse crime than simple molestation? I'm changing the subject though. Margaret Carlson, who is I guess writing for Bloomberg now, takes issue with John McCain's optimism re coming together and ensuring The Iraq invasion was not and invainsion. Deep down she would like to buy into his romantic worldview, but she can't. I can't read any of this without thinking how she stalked Fred Thompson and, therefore, you know, should probably steer clear of matters pertaining to the nexus of politics and romantic worldviews?
MEGAN: Ew, she stalked Fred Thompson?
MEGAN: As in, she wanted to bone him?
MOE: Oh yes!
MEGAN: You know, I have to say and we can all admit that some women like to pursue attached men, as though it's some sort of validation of their hotness or something. I once dated an older guy — who, truly, was neither tall, built, obviously wealthy, or anything close to "hot" but he did look 20 years older than me — and I'll be damned if every time we were in a bar together if some women 10 years or more older than me wouldn't mack on him.
MEGAN: And I wanted to be like... he's dating a 25-year-old. Really?
MEGAN: But, yeah, at the point at which a dude's girlfriend goes to the papers about you, you really gotta examine that line between "aggressive pursuit" and "stalker." And when you're pursuing Fred Thompson, you really gotta deal with your daddy issues (which, hello, is why I started seeing a therapist).
MEGAN: Not that I pursued Fred Thompson.