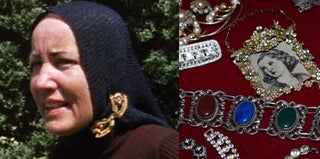 S
Eva Marie Beale married to the nephew of our favorite deceased aspiring dancer/recluse Edie Beale, and she's opened an online store called Grey Gardens Collections, on which she sells vintage jewelry inspired by Little Edie's personal style. Clearly, they will help accessorize everyone's Best Costume for the Day. Take a look at some of the pieces after the jump, and try to keep the line between the past and the present (although we know it's awfully difficult).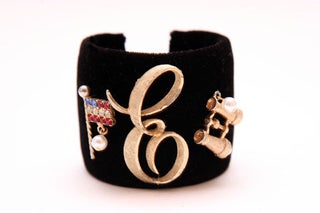 S

"Edie's Choice" Velvet Cuff
S-T-A-U-N-C-H!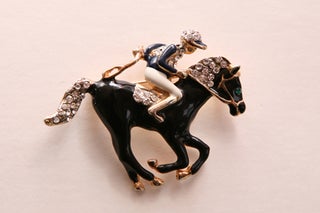 S

Rhinestone Horse and Jockey Brooch
I'm pulverized by this latest thing!
S

Rhinestone Cat Brooch
I adore kitties.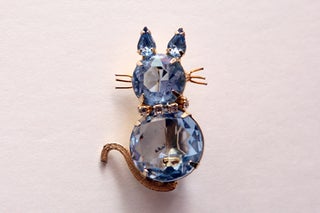 S

Rhinestone Cat Brooch
But raccoons and cats become a little bit boring. I mean, for too long a time.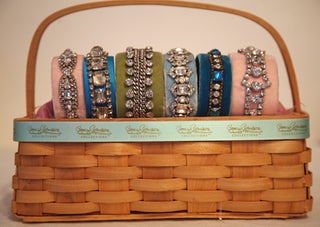 S

Grey Gardens Bridal Collection Cuffs
Edie never married, but she had a proposal of marriage from Paul Getty. Remember Paul, the richest man in the world?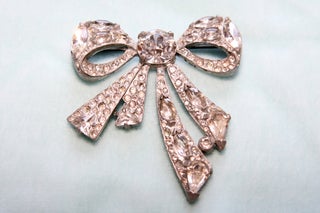 S

Rhinestone Bow Brooch
This will keep your scarf on your head on a windy day.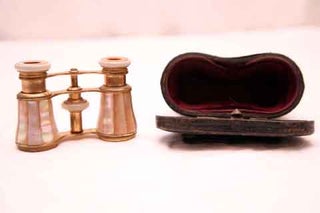 S

Opera Glasses
It's much easier to view the numbers on the scale with a pair of these.
Earlier: Retro Fashion: Edie Beale On The "Best Costume For The Day"
Edie Beale Would Not Approve Of Drew Barrymore Playing Her In A Movie
Drew Barrymore As Edie Beale In The Best Costume For The Day