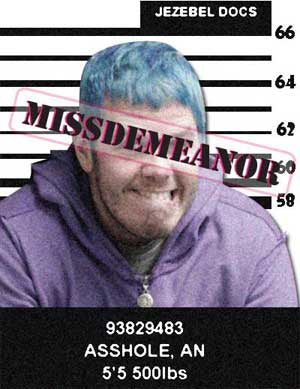 Welcome back to Missdemeanors, in which we issue virtual wrist-slaps to popular gossip bloggers for Crimes Against Womanity. This week? Women are sluts, look like dudes, are probably on line for abortions and should get AIDS. Another great week of "writing" on the internet! The offenders, their crimes and sentences, after the jump.








Since it the internet is so awash in misogyny and woman-bashing that it's like we're living in the dark ages, this week all sentences will be medieval torture techniques. Fun and educational!
The Accused: IDontLikeYouInThatWay
The Crime: Use of the oh-so handy "slut" label.
The Evidence: "George Clooney's Girlfriend Is A Slut: One day this chick doesn't mind getting dry humped on camera, the next she's a demure flower on the red carpet. Why the sudden change? Was it true love's first kiss? Did George Clooney fill her empty heart? 'Oh, and he's really rich and famous,' Sarah Larson added. 'Don't forget rich.'" So yeah. What does it matter that Sarah Larson's been photographed Last Nights Party-style? So have lots of girls. Also, calling someone you don't know a slut on the internet is immature, stupid and makes you look like and idiot. Cut it out. Also? Women are complex. Deal with it.
The Sentence: The Judas Cradle.
The Accused: WWTDD?
The Crime: Getting on Miss England's case; calling her fat.
The Evidence: "She says, 'It's what I was born to do - posing for the camera. And as I keep saying, I love my body. People seem desperate to get me to say that I don't, that deep down I'm not happy and would rather be thin, but the fact is I wouldn't change myself at all. Do I have fat days? Of course, but what woman doesn't!' I think the difference being Chloes fat days are more commonly known as, 'Monday-Sunday.'" Miss England, Chloe Marshall, is a lot of things: Brave, confident, 5 foot 10 and recently signed to a modeling agency. She is not, however, fat.
The Sentence: Foot roasting.