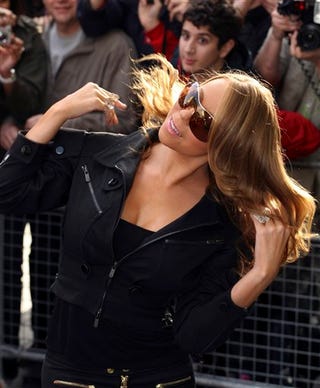 A couple married for 75 years died within hours of each other. People who knew them were quick to point out that she got really fat and that he stayed terribly thin so I guess that whole body weight-mortality link isn't all it's cracked up to be. [WFAA]
An unconstitutional law to almost-ban abortion will probably be back on the South Dakota ballot in November, though it didn't pass in 2006 and the past two years have not exactly been awesome for their cause. [Wash Post]
Wal-Mart, which was always a pioneer in ensuring all its employees were so impoverished they'd always be eligible for federally subsidized health care, is now doing some confusingly contradictory things and my head hurts.
A new province in Western China is getting angry at the government, only this time — oh noes! — it's the one with the angry Muslims. Who are demanding that the government allow them to wear headscarves. THE BETTER TO HIDE THEIR WEAPONS. [IHT]
It looks like Robert Mugabe has lost the Zimbabwe parliamentary elections. This by no means means the end of Mugabe's 28-year rule, but it does mean something...Developing. [NYT]
Bye guys! You won't see me till Monday. Now, to summon the willpower to get the entirety of the rest of my life that is not this blog sorted out before then.