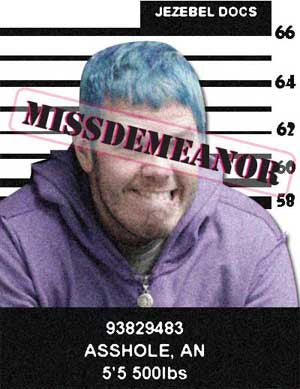 Welcome back to Missdemeanors, where we issue virtual wrist-slaps to popular gossip bloggers for Crimes Against Womanity. This week was just annoying. The offenders were annoying, the crimes were annoying, and the fact that the same old crap — degradation of women in the name of "funny" or "edgy" blogging — keeps coming up again and again is super annoying. Monitoring Jessica Alba's workout habits, Sienna Miller being branded a slut and the sexualization of female celebs under 18 are just some of the reasons one can get SO ANNOYED. The accused, and the annoyances, after the jump.




The Accused: IDontLikeYouInThatWay
The Annoyance: Calling Sienna Miller a slut.
The Evidence: "Sienna Miller is a huge slut. Seriously, she's a slut. Urban legend says that if you say her name in a mirror five times in row that she'll appear behind you out of a mist. Then she'll fuck you. Be warned!" So yeah, this is just annoying more than anything else. Because hey, I don't know, Sienna could be a "slut," or she could just be a modern woman who has slept with a couple of dudes but happens to be famous. But you know, a dude bangs a few chicks and he's a stud; a woman shags a bloke or three she's a slut. This is the annoying world we live in. As far as I know, Sienna has been linked to Jude Law and Rhys Ifans. Two men. If that makes her a slut then seriously? We are living in a tear in the space-time continuum.
The Sentence: A punch in the jaw, and a lecture from Slut Machine.



The Accused: The Skinny
• First Annoyance: Continuing to monitor the weight of a pregnant woman when you are not, in fact, her OB/GYN.
The Evidence: "It looks like someone is still trying to stay active and fit during her pregnancy... (good for her!) Jessica Alba was spotted leaving the gym earlier this week." Annoying! Is it good for her because everyone else is getting SO FAT while they are fucking PREGNANT???
The Sentence: Babysitting 13 screaming infants while being lectured by your own mom.
• Second Annoyance: Doing that "guess the cellulite" thing.
The Evidence: "Guess which female celebrity was spotted going to La Scala for lunch in a pair of shorts, showing off some front thigh cellulite?" People, it's Thinny McThinerson Mischa Fucking Barton for the love of God. So WHAT if she has cellulite? Who the hell doesn't? Does it impact her already subpar acting? Then who cares? Nitpicking!
The Sentence: A slap on the ass and a lecture from Miss Landmine, who is thankful to have thighs.