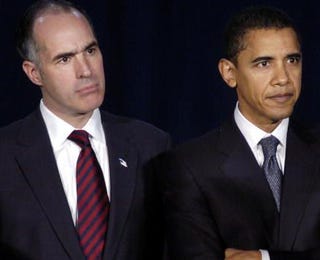 Some days I love Pennsylvania. Like: I love how the Victorian liquor laws actually mean good wine is cheaper there. I love how they still have a mob. I love how no one in Pennsylvania would tell you that being a state senator is no big whup. I love how I would regularly bite into a Tastykake from the office vending machine wherein the filling had essentially fermented from lack of preservatives. Where else would the black reform-minded mayor of Philly endorse Hillary Clinton? Where else would you get Amish coke traffickers selling to motorcycle gangs? And where else would the Catholic white pro-life political scion machine-made senator suddenly decide to embark on a hope-filled bus trip with the black socialist candidate? I'll bet he was just "inspired." Pennsylvania: it's the "Everything Seems Possible Where Nothing Is Possible" state. Megan and I discuss that and The Iraq, along with whether Condi Rice is black, whether John McCain is smart, whether Hillary can ...blah blah. Happy Friday! Click for that and hot Efraim's MySpace profile and more Green Zone/T-Zone analogies. Oh, and an EXCLUSIVE dispatch from an Obama speech to rich people.



MEGAN: By Friday, I swear, it's like sheer force of will to drag ass out of bed.
MOE: seriously. I did that thing that I never do where I assumed it must be Saturday.



MEGAN: I was like allllllmost awake, and then I fell back asleep again.
MOE: Also, I feel like there's no Crappy hour that can beat yesterday's. Though I found Andy Armsberg's spare MySpace profile.
MEGAN: get through airport security.
MOE: Do you think that the Pentagon would have bought all that ammo from him if they had known that in October 2005 he said that
for the moment im basically just working and chilling with my boyz when im not, im looking for some hobbies like i keep saying im gonna go to the gym and i started playing football again which is definately my favorite sport. im one of those guys who needs to be entertained and having lots of fun all the time so if your also an undiagnosed case of ADD look me up.
MEGAN: No, I mean, I read that and it's no longer surprising that he was a military defense contractor.
MOE: I bet he totally sends text messages such as "I'll need someone to fuck around 11:45."

8:55 AM

MEGAN: Or the one I sent you last week, which came from a defense contractor! "News flash: looking for a fuck tonight. That said, how are you?"



MOE: Oh right. NEWS FLASH.

Looking...for...a segue. What is in the news? Guess who they just had on Hannity last night?
MEGAN: A pirate?
MOE: This guy. I don't really know how to describe his worldview, except to say, "I'm really glad Fox gives equal time to all irrational, inexplicable and yet also hateful viewpoints such as
MEGAN: Oh, Christ, I watched his shit last week. Obama's a pimp? He's got a white mama and is thus is... evil. He's practically preaching like the evils of interracial relationships only from the other side of it. Wright's a total moderate by comparison.

OMG, my favorite headline this morning just popped up! "Dempsey to become Central Command chief"

Sadly, it's not Patrick.



MOE: hahaha I guess we should talk about the Iraq today.

It seems to be in the news.

And we never officially celebrated the fifth anniversary of the invasion.



Also under stuff we never did: get oil?

It looks like the evildoers control the oil territories.
MEGAN: Ah, well, than I guess suddenly the reason we're still there is now clear. Fuck "stopping" a civil war, we just need to wrest control of the taps from whomever hates us and has control.
MOE: Speaking of do you ever think about the Middle East when you are squeezing your pores? Because I actually wrote about how I do that yesterday, and now I am referencing it again, and I bet if I consulted my Facebook Horoscope "Intellect" rating it would be 3% right now, and that is exactly where I will probably click next. But maybe in the name of defying Astrological Determinism I should read about Basra.

Oh fuck, haha, speaking of my diagnosed case of ADD, I meant to make this about Bob Casey endorsing Obama.