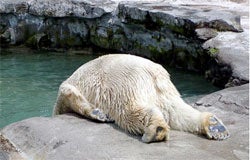 Salt n' Pepa said opinions are like assholes and everybody's got one. Well 1,400 of you and counting had opinions about this post.

But who cares what other people think! You're living alone and loving it.

And probably airing the ol' girl out 'cause no one is ever around.

But you guys, Anna Wintour put a big black guy on the cover of Vogue, so we know the apocalypse is neigh.

Whatevs to all that. It's spring break y'all! Pour some out for the homies and have a good weekend.