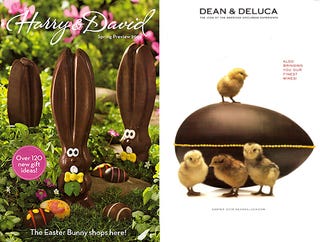 So: There was an ancient pagan goddess of spring named Eostre who was celebrated during the Vernal (spring) equinox. Hares (and rabbits) were symbols of the fertility of the season; the saying "mad as a March hare" came from the fact that the critters had so much sex during that time of the year. Eggs were also ancient symbols of fertility because, duh, life hatches from them. And back in the day, people would see hares hopping around in meadows and find nests of plover eggs, then mistakenly think that the fuzzy bunnies were laying them. Then arrival of Christianity confused everything and now some people celebrate Jesus with chocolate egg-laying bunnies. Insane? Sure! But there's candy involved, so it's okay. Easter foodstuffs from Harry & David as well as Dean & Deluca, after the jump.
The cover of the Harry & David catalog claims, "The Easter Bunny shops here," but we have it on good authority that his credit cards get declined.
Wow, a nine-inch solid chocolate bunny. The perfect thing to give to kids right before they're going to have to sit through a sermon at church! Or is it the reward for enduring the service?
Some people probably find it really cute that the rabbit's head comes off and there's candy inside his skull and body; I find it terrifying and creepy.
Isn't cabbage the pagan symbol for vagina? That's where Cabbage Patch Kids come from, right? Also: Egg candles? Really? Can't you envision a scenario in which kids are like, "Why are you burning my Easter Eggs?" And crying? Loudly?