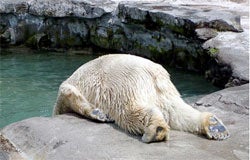 Lohan posed nekkid for New York as an homage to Marilyn Monroe. We wondered whether her assets were real or manmade
Our Sephora Spy stood up and admitted to the world that she's a product-oholic
John McCain maybes fucked this blonde lobbyist who looks just like his wife.
J.Lo pushed out some spawn. We cannot WAIT to find out what she names them. Fingers crossed for Anthony and Antonia Lopez-Anthony!
Cosmo said vaj-jay-jay. We barfed.
Now go spend your blissful work-free weekend meditating on why Ginger Spice does not get more respect. Hop to it!