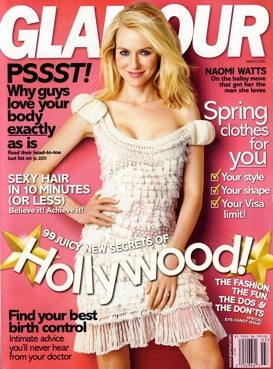 SCARY CELEB DIET TRICKS no sane woman should try! That's a story on page 348 of the March Glamour. Reverse psychology? Irresponsible? Whatever, we're reading on! And... well, turns out they abuse Dieter's Tea, do "liquid cleanses" and "stay locked in the gym...and then LIE about it." Oh, Jesus. As someone who has done all that shit and worse — well, I don't think I ever lied about going to the gym, as if going to the gym was something shameful in this society, but whatevs — I thought I'd save the jump for some even dumber diet ideas.
Not eating. "Dry" cappuccinos, chicken bullion, cabbage soup, gum, pickles, celery, kim chi, diluted cream of wheat, V8 juice, miso soup, diet soda...I have pretty much ruined all of these foods for myself by subsisting on them for years at a time. Don't do it! It sucks so much to look at a pickle and have that twinge of, "oh yeah, once I was thin."
Laxatives. These were my absurd crutch for years. Absurd because they never worked. Senokot for regular days, Correctol for really bad binges, laxative "Dieter's tea" when I felt like punishing myself for cultivating such a gross and stupid addiction by forcing myself to ingest something really disgusting to remind myself how pathetic I was. Laxatives absolutely do not work at all, which is why I wonder how someone as experienced in these things as Tyra would still seem to be abusing them. (Maybe, like a certain other Jezebel I know, she just likes the way the chocolate Ex-Lax tastes?) They just give you that "empty" feeling you remember so fondly from the days you could actually pull off anorexia. Which is why they don't work: you're so empty you need to eat.