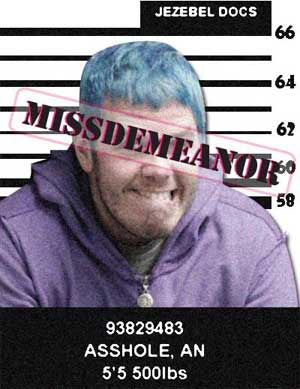 Welcome back to Missdemeanors, where we issue virtual wrist-slaps to popular gossip bloggers for Crimes Against Womanity. This week was pretty slow, but there was some smack-talk about Britney's nethers, unwaxed pubic areas, Sports Illustrated swimsuit model Marisa Miller and big feet. Plus! A nearly incomprehensible message about Alyssa Milano. The offenders and their sentences, after the jump. Let the Jezebel justice system begin!
The Accused: I Don't Like You In That Way

The Crime: Mocking Britney's nethers. The Evidence: "Britney Spears flashed her nasty ass crotch the same day she was released from UCLA Medical Center." Points For Good Behavior: None. Just cuz everybody does it doesn't make it right. She's touched, OK? And at least she was wearing underwear! The Sentence: "Unmentionables" detail in a women's prison laundry center.
The Accused: Yeeeah! The Crime: Mocking a woman's big feet.

The Evidence: "Today's mystery celebrity boasts a size 11 1/2 shoe. And boy, what a shoe. It's the kind of shoe that ought to be flung from the foot of a post-op tranny in a fringed satin mini-dress and rhinestone eyelashes doing a high kick as he belts out the chorus to 'I Will Survive.' But mostly, it should be on the foot of someone born with balls." Points For Good Behavior: Yeah, it was Paris Hilton, but a woman should not be judged by her massive hooves. We try not to assume that men with small feet have small dicks, so lay off. And some people like a chick with giant clodhoppers. Anyway. The Sentence: Being roundhouse-kicked in the face by Paris and some big-footed babes for about six hours.