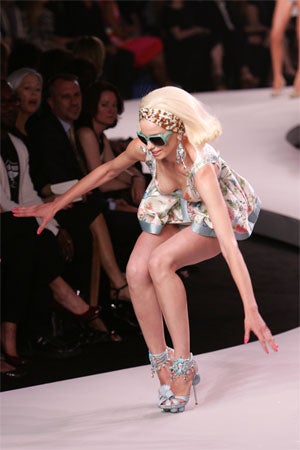 Welcome to Modelslips, Jezebel's inside guide to Fashion Week as seen through the gimlet eyes of our very own 35-inch hipped, gel-schellacked, damaged-hair and hotdog-eating Anonymodel "Tatiana." She's smart! She's thin! And she's BEHOLDEN TO NO ONE. But what she was this weekend was a little bored, and so, instead of tripping down the runway (no that's not her above left), she answered your questions.
The biggest difference between modeling and, well, other jobs I've had, is how much surprise is inherent to the former. It's kind of cool that, on a given day, you might get a call from your agent informing you that you're booked on the next plane to Prague. The perpetual motion of fashion pulls even people like me, the totally unknown, relatively-interchangeable, low-hanging fruit of the modeling world, to locales we might never have dreamed of, back at home. And then sometimes, it doesn't.
This weekend, Diane von Furstenburg had her show, as did Alexander Wang, Hervé Leger, Preen, Miss Sixty, Abaeté, Sass & Bide, Threeasfour, and Tuleh. Even Elisa Jimenez, that spit-marking freak, and Zulema, that crazy-eyed model thief, had shows. I was on option for a total of five jobs this weekend, including one or more of the above. An "option" is modelspeak for a Pretty Good Shot at a job — it means the client likes you enough to want to officially nab first dibs on you for a given time slot. Some options get upped to confirmations, some dematerialize for reasons unknown. Of course, as with grades, there is options inflation: Prada is notorious for putting hundreds of models on option for shows or campaigns and then picking only a half-dozen or none at all, in which case they'll just start their process over. But, in general, options are strong indications of interest, and over the long term as many as one half should come through. Given the rough formula of Jobs = Options X .5, I thought I'd be working all weekend.