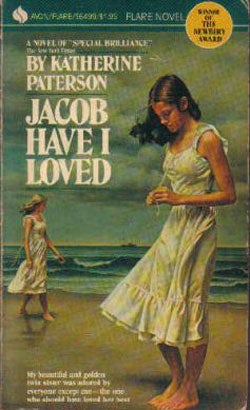 Welcome to 'Fine Lines', the Friday feature in which we give a sentimental, sometimes-critical, far more wrinkled look at the children's and YA books we loved in our youth. This week, writer/reviewer/blogger Lizzie Skurnick rereads Katherine Paterson's 1980 novel 'Jacob Have I Loved', the story of a young girl, Sara Louise, whom nobody likes as much as her twin sister.
As soon as the snow melts, I will go to Rass and fetch my mother. At Crisfield I'll board the ferry, climbing down into the cabin where the women always ride, but after forty minutes of sitting on the hard cabin bench, I'll stand up to peer out of the high forward windows, straining for the first site of my island.
Let's all just start crying now. Seriously, I don't care, don't even read this review — just get up, tell your boss it has to happen and leave work and go home and cry. We are, after all, looking at the works of Katherine Paterson, author of Bridge to Terabithia and The Great Gilly Hopkins, winner of two Newbery Medals and two National Book Awards, daughter of Chinese missionaries (did you know that? I didn't know that). Attention must be paid.




Which reminds me: Paterson has yet to receive the kind of acclaim in the public imagination that someone like Judy Blume or Madeline L'Engle or even Paula Danziger receives, and I'm not sure why. (She is on 19,000 school reading lists, but still.) Perhaps because it's hard to have a hook for a writer who brilliantly depicts the grand psychic disarrangement of childhood without being remotely funny, heartwarming, or illuminating of the state of girlhood during some stultifying historical period.