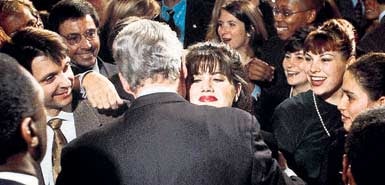 It's been a decade since the cheerful, porcelain-skinned visage of Monica Lewinsky entered the collective consciousness. For those of you living on Venus or in middle school, Lewinsky was the intern who almost brought down Bill Clinton's presidency when her "affair" with him became public during Paula Jones's sexual harassment suit against him. Clinton said under oath that he did not have sexual relations with Lewinsky, but then Satan spawn Linda Tripp pretended to befriend Lewinsky, only to secretly tape Monica gabbing about her BJ's with Bubba. Then there was semen stained dress, which allegedly had Clinton's man-juice all over it, taken into custody by the FBI. We all know what happened with the Clintons — Bill left office in January 2001 and many people look at his administration as halcyon days when compared to the Bush White House, and Hillary is stumping for her own berth in the Oval Office. But what happened to Paula Jones, wretched Linda Tripp and poor Monica? A where-are-they-now, after the jump.
Paula Jones is divorced from the man she was married to during Lewinskygate, the one who was so eager for her to sue the President. She has since posed nude for Penthouse, and lost a reality TV boxing match against ice skating bad girl Tonya Harding.
Linda Tripp, who was roundly vilified in the press for betraying Monica, was played by John Goodman in drag on Saturday Night Live, and reportedly runs a year-round Christmas Store in Middleburg, Virgina, says The Times of London. She's also married to a lederhosen-clad German named Dieter (for real).
And then there's Lewinsky. She's dabbled in designing handbags, hosted a radio show, and graduated from the London School of Economics with a masters in social psychology. She tries to keep a low profile these days, but she's been spotted in Los Angeles, most recently.