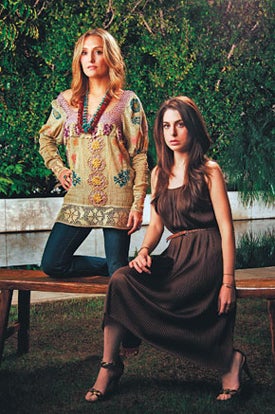 Today's Women's Wear Daily features an impressively-long article about Celebutantes, the story of "26-year-old Lola Santisi, daughter of an Oscar-winning director and a former model, who's working as a brand ambassador for an up-and-coming designer vying to dress a celebrity for the Oscars." Written by Daughters-of-Hollywood Amanda Goldberg and Ruthanna Hopper and based, no doubt, on the lives of the ladies they know and lunch with, the book is being sold as the ultimate insider's guide to Tinseltown's foibles (Hopper is daughter to Dennis; Goldberg is daughter to Charlie's Angels producer Leonard). The two are also featured prominently in a 3-page "Personal Style" spread in the new issue of Harper's Bazaar, in which they recommend $2,200 Hayward Dowel purses and $3,795 Missoni dresses (ugh).



Listen, I'm not hating on these women for using their considerable connections to accomplish their creative goals, but why is it that of all the "chick lit" books that hit the shelves every month, those written by or about socialites and urging conspicuous consumption the only ones that get any press?
Earlier this year, NYC society doyenne Holly Peterson, daughter of the chairman of the Blackstone group wrote an aggressively mediocre book called The Manny, made a YouTube video with her rich friends to accompany it, all followed by mentions in the New York Times Sunday Styles, and the New Yorker.