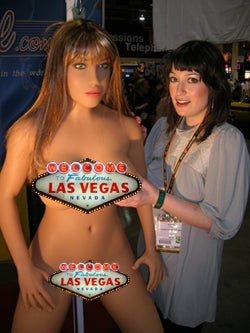 Please know that from here on out, most links will be NSFW, as are the images after the jump.
So, I arrived in Vegas last night for the Adult Entertainment Expo taking place this week, and the AVN Adult Movie Awards on Saturday night. It's my first time attending the convention and the awards — I'm still a virgin at something! — and Jonno from Jezebel brother site Fleshbot has been showing me the ropes. Today we worked the floor of the convention, which is full of booths of porn production companies and sex toy companies, and introduced me to a bunch of industry people he knows, so it sorta felt like this was my debut and I'm like a porn society deb or something. I've been keeping my pants on — so far. It's still light out here, and tonight is my first party and opportunity to meet some porno dudes, so things will probably change rapidly within the next few hours. (Fingers crossed, legs open!) However, I've already seen tons of stuff on the biz side of things today.



So that picture of me above with that sex doll? That's a knock-off of a Real Doll. They are $5,000 (about $1,500 less than a Real Doll), and it's really obviously a jankier version. Some random dude walked over to us as I was feeling her up and he said, "Looks like my ex-wife. She couldn't cook, but man could she fuck." And then he walked away. I'm thinking those sort of one-way, TMI conversations with strangers is fairly commonplace here.