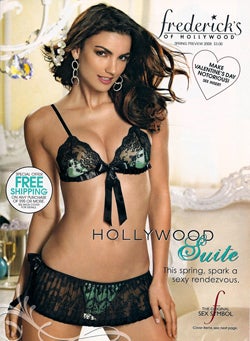 First things first. Of course an item of clothing all by itself cannot be "slutty." And a woman wearing a provocative, wispy, sexy, leave-nothing-to-the-imagination item of clothing is not a slut. But there are some slutty-ass accoutrements in the Frederick's Of Hollywood catalog. Victoria may have a Secret; Frederick's girls let it all hang out. Fuck discretion, indeed. But while you may think you know how skanky Frederick's is, you may be surprised: A lot of what they offer is actually quite tame! For lingerie! Satin nightgowns, baby doll camis and uh, crotchless knickers, after the jump.

OK, this doesn't prove anything. This is indeed slutty. It's like, once you've wrapped your mind around the front, then the back threatens your sanity. Does it come with scissors? Because that appears to be the only way to get out of it.








This is more to the point: Not so bad! As far as these things go. It's flirty, but not overtly depraved. Not that there's anything wrong with that.








Ditto. What she said.








Um, what? Why wear underwear at all? Arse-trinket alert!