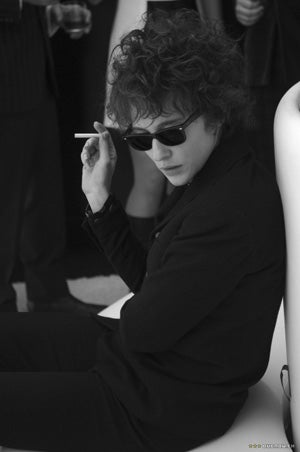 When the Golden Globe noms were announced last week, we broke down the female honorees along the old Shirley MacLaine adage about good parts for actresses falling into either hooker, victim or doormat categories. Today, the Screen Actors Guild announced the nominees for its awards and, although there's nary a hooker to be found, there are a couple of doormats and victims to fill the void! After the jump, we assess the candidates* (the ones who weren't also nominated for Golden Globes, that is).


Movies

Cate Blanchett, I'm Not There: Cate plays one of four Bob Dylans in this avant garde semi-biopic. She's mid-60s Bob — after he went electric but before he became born again. She is playing a dude, and a dude who wasn't always good to women (see Baez, Joan), but since there's no "douche/genius" category, we'll have to go with...Verdict: Ok!

Ruby Dee, American Gangster: Ruby plays gangster Frank Lucas's long suffering mother in this story of a black gangster who corners the Harlem heroin trade in the 70s. She lives off Frank's drug largess despite knowing his cash is ill-gotten. Despite one scene at the end where she slaps her son across the face...Verdict: Doormat

Catherine Keener, Into the Wild: Didn't see it but cribbed this from the NYT
review: "carefree and careworn" surrogate parental figure to wilderness wanderer hero, Chris. She sounds independent and kooky! Verdict: Ok!

Amy Ryan, Gone Baby Gone: Ryan plays an alcoholic mother whose child is kidnapped. Hm, going to have to go with...Verdict: Victim

Tilda Swinton, Michael Clayton: Emotionally distant powerhouse lawyer orders the death of the title character when she realizes that he might ruin her reputation. She's sort of a doormat when it comes to the whims of the evil corporation Swinton is working for, but I think she's essentially... Verdict: Ok!
Television

Ellen Burstyn, Mitch Albom's For One More Day: Dead mom/ghost helps her troubled son figure his life out. The wikipedia description says the Burstyn character saved the family with her love. Ew. Sounds like she was kind of...Verdict: Doormat

Debra Messing, The Starter Wife: Her Hollywood hotshot husband leaves her for a Britney (pre K-Fed) doppleganger. At first she falls apart, but then through the support of her friends she falls for a hot homeless dude. Since she only realizes that her life is vapid and overly botoxed when she's dumped, I say...Verdict: Victim

Anna Paquin, Bury My Heart at Wounded Knee: Paquin plays a 19th century schoolteacher who tries to improve life for Indians on a reservation. Sounds like a tough broad. Verdict: Ok!

Queen Latifah, Life Support: Queen plays a mother who overcomes a crack-addiction to become a positive role model and activist. Probably a little schlocky, but basically...Verdict: Ok!

Vanessa Redgrave, The Fever: Redgrave is a woman gets involved in politics with no previous contact with world events. Down with societal apathy! Verdict: Ok!

Gena Rowlands, What if God Were the Sun?: Quick-witted terminally ill patient helps change another woman's outlook on life. Terminally ill? Ugh. Verdict: Victim

Vanessa Williams, Ugly Betty: HBIC at fictional Mode Magazine, Vanessa plays a conniving and immaculately coiffed baddie. Even though she torments adorable Betty, she's pretty much...Verdict: Ok!

*Caveat: we haven't seen many of these movies/shows, so if our snap judgments are incorrect, holler and let us know!

Nominations Announced For The 14th Annual Screen Actors Guild Awards [SAG Awards]
Earlier: The Golden Globe Nominees: No Hookers, But Lots Of Victims