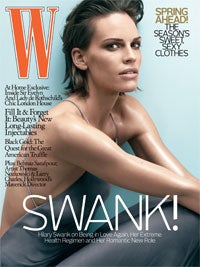 Hilary Swank in the January issue of W magazine: "I just took my most important [pills], which are my Oz Garcia Longevity Pak. I shoved them in my mouth right before I met you, which I actually shouldn't do, because I choked on my vitamins once before." [W]

Has Vogue's Anna Wintour really had her lips injected and her eyes lifted.? If one of you can confirm this for us, we'll buy you a dozen cupcakes. Or a colonic, if you're a Conde Nasty and that's more your thing. [NY Post]

A tipster tells us that this year, Conde Nast staffers are receiving "very big, engraved" umbrellas as their Christmas bonuses. "Engraved"? With what? Wintour's new lips? Anyone have a pic?