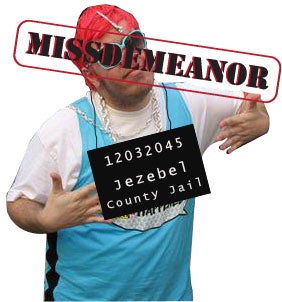 Welcome back to Missdemeanors, where we issue a virtual spanking to the internet's most popular gossip bloggers for their Crimes Against Womanity. This was a weird week. In the wake of the whole Jennifer Love Hewitt bikini pic SCANDALE — which got a massive amount of highly worthwhile media attention after we called attention to the bloggers calling attention to her slightly-enlarged posterior — we were feeling kind of desensitized. Moe even started a short-lived IM relationship with the young gentleman behind the Drunken Stepfather blog in hopes of renewing her disgust. (What she learned: like most henpecked husbands living in Montreal, he's headed to Los Angeles this New Year's to see Justice! Also: he thinks JLH just shouldn't try to "squeeze" into such small bathing suit bottoms. Could that have averted this whole shitstorm to begin with? Could we actually all just get along? Ummmm not yet.


The Charge: ???
The Accused: Jesus Martinez, the amiable perv behind Drunken Stepfather.
The Evidence: This week Mr. Martinez wrote an this Email Response to a reader who complained about his coverage of JLH: "There's only one of me and her ass is fat, but clearly not as fat as yours, otherwise you wouldn't get all menstrual on me...I'm glad you'd like to see me on the beach because I'd like to see you inserting things in your fat ass, maybe a hot dog or a cheeseburger or a slice of pizza, but that's just because I'm poetic like that and want to see the food that made your ass going back into your ass...you hot little slut."
He waxed anti-Semitic in the midst of a post about how hot he was for the Jewish girls who'd been befriending him on the internet: "The Jews are so successful, they slow the non-Jew down, like some sort of evil trick to help them take over the world."
And he expressed his signature brand of resigned repulsion at Cindy Crawford's: "Here are some pictures of Cindy Crawford's stomach lookin' like shit just got off the set of a horror movie, but I'm all for being scared by ex-supermodels, because pregnancy stretch marks are a hell of a lot less offensive than my wife's obesity stretch marks, and probably smell a lot better...I think the whole fascination that they went through all this suffering and threw away their lives and bodies for this fuckin' thing and that makes a person delusional, because otherwise they'd look vain and selfish and like an unfit mother. So they pretend that the thing is beautiful and was worth it all the suffering and destruction to their once rockin' body...It's kinda the same reason you're going to marry a fat ugly bitch and pretend she's everything you always wanted in a woman, because she's all you can get and that my friend, is better than being alone. I know we aren't friends, but I just felt like being personable. Cuddles." But the thing we really couldn't forgive was the comment at the end of that missive:
4. Thank you Jesus!!! I've had three brats, two, ten pounders and I'm a small girl. I run and run. I'm 100lbs and I still think I should look better because well, look at Cindy Crawford, I'll say. But alas, Jesus speaks the truth and shows us the way.
Oh my god
no
.
Points for Good Behavior:
Yeah, maybe if he hadn't started sending Anna a series of charming emails detailing his plans to pleasure himself to her image this week, we'd be feeling more charitable. THANKS FOR INCLUDING YOUR IM HANDLE, JACKASS!
The Sentence:
FYI, it's "drunkNstepfather" — go for it ladies.
The Charge:
Passive Aggressive Judging
The Accused:
BFF Rian from everyone's fave clearinghouse for the most up-to-date celebrity weight loss analysis,
The Skinny
.
The Evidence
: "In case any of you ever wanted to see Reese Witherspoon from the side/back... here you all go! (Personally, I didn't). From this angle, I would say it looks almost as though she doesn't really work out much do many toning exercise... what do you all think? YES SHE IS VERY THIN."
And also:
"I think if [Jennifer Love Hewitt] really ate like that, she would be quite a bit slimmer. And no - I don't think she is fat at all, seriously. It's just that the calorie content for all of that seems pretty low, which would entail a thinner figure, right...? Am I wrong?"
Points For Good Behavior:
We're gonna give ol' Rian a litttttttle bit of credit this week because she actually stepped out of her self/woman hating box and focused on a few men this week, which was a nice change, but then again, giving more
men
food complexes isn't exactly the way to rid women of
theirs
, so whatevs. Also, if there's anything that makes us want to claw a person's eyes out it's when they use really passive-aggressive language to get out what's actually a really harsh judgment. In this case, Rian is saying that Reese Witherspoon (who, by the way, runs like a maniac everyday - seriously, there isn't one fucking issue of US Weekly without a picture of that chick running around Brentwood) has a saggy ass and that J. Lo Hewitt clearly eats pork rinds in between her fake healthy diet. But also, we're not nutritionists or anything and our diet is made up of 7/8 carbs and 1/8 liquid so we don't really know shit, but we're pretty sure we've read a million studies that say eating below the recommended daily amount of calories actually slows your metabolism down and makes you gain weight easier. Anyway, the point is, we wish Rian would just get some balls and say what she means instead of being all "What do youuuuuuu think?" about every goddamn thing. We would still think she's fucked up, but maybe she would annoy us less. Ugh.
The Sentence:
We don't even know anymore. A day with Jesus perhaps? (The Drunken Stepfather, not the man who turned water into wine. (Though if you find
that
that Jesus, we've got a Brita filter with his name on it about now...)