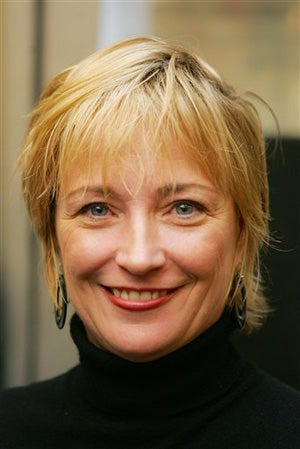 Last night Cosmopolitan editor-in-chief Kate White held a chat at the 92nd Street Y. Did you know she was once a waitress at a Howard Johnson's? It was there that she met a very naughty co-worker who let her in on a secret: sometimes, to get what you want, you have to break the rules. For instance, as employees they were allowed free ice cream from the cafeteria at lunch time, but they weren't allowed the hot fudge, cherries or any other trappings of the toppings bar. Nevertheless, this friend always somehow managed to sneak into the employee cafeteria with a full-fledged sundae. "How do you sneak it past the managers?" Kate once got the courage to ask. And there, right before her eyes, the friend revealed her big secret to having it all; hot fudge, whipped cream and the rest...
It was something called an "upside down" sundae, whereby her friend stowed all the toppings on the bottom of the bowl, out of the sight of her superiors, then plopped the ice cream on top, safely hiding her stash of sweetness. "If you want that cherry in life, to say nothing of the hot fudge and whipped cream, youve gotta have that upside down hot fudge sundae." What a wonderful new cliche to replace the "cake and eat it too" crap!
Anyway, we tell that story because we had to employ a similar strategy merely to get entrance to this event, because a press officer at the Y informed us that press had been barred from the event. Using our cunning and the internet, we (Moe, Jessica) purchased two "civilian" tickets and sneaked in as though we were two normal people just interested in seeing what the editor-in-chief of Cosmopolitan and mystery novel author Kate White has to say. What do such normal people look like, anyway?
Jessica: I got there first, and was oddly nervous. I wore more makeup than I usually do, because I didn't want to feel inadequately groomed when compared to the fashion bitches I assumed would attend. I still looked comparatively sloppy — I spotted a pair of this year's Miu Miu pumps and slunk into a chair in my dirty jeans. I had sat down in the middle of two rows of twenty-somethings who all seemed to know each other. I assumed they worked for Kate, so I asked the girl next to me if she, indeed, worked for Cosmo.

"I do," she said, "I'm Ashley."

"I'm Jessica, I work for Jezebel," I told her, and her formerly warm gaze turned icy.

"Oh. I saw that you guys wrote about us today."

"Um. Yeaaaaah."

That ended that conversation! (A quick perusal of the masthead later on led me to believe I was talking to associate web editor Ashley Womble, who was quite possibly responsible for the feature I mocked yesterday. Um, if you're reading this, I'm sorry Ashley! But like, "Boyfriend Wars" is a pretty exquisitely lame idea! Surely you see my point! No?"