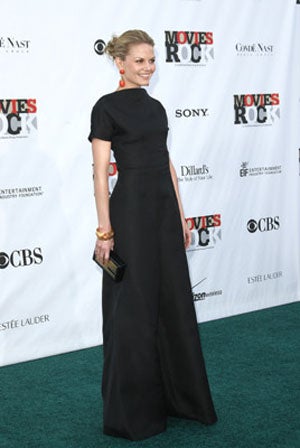 Unlike the Fug Girls, we are in lurve with Jennifer Morrison's high ballet-necked black dress: So striking! So architectural! So bold! It reminds us of something we might see in a piece of El Greco royal portraiture. And best of all: It is not another flowy, look-alike red carpet confection. Unfortunately the rest of last night's Conde Nast Movies Rock event in Los Angeles was short on looks like Morrison's and heavy on, well, those aforementioned look-alike diaphanous draperies. Bor-ing. A few ladies, at least, knew how to work color and proportion to their favor. Others though? Well, others should be shot for their sartorial stupidity. The good, the bad, and the ugly, after the jump.
The Good: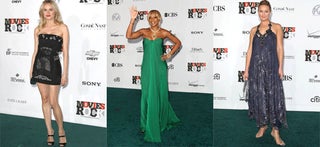 S

L to R: Diane Kruger sticks with a short one, and shows that pale is beautiful too, especially when set against black! Mary J. Blige is a goddess in green and Elizabeth Rohm shows that maternity wear can be gorgeous and appropriate. These women rock.


The Bad: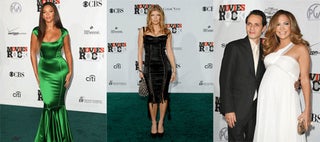 S

L to R: Does Beyonce have just one dress that she dyes a different hue before each event? Fergie looks like a drag queen no matter what, but wearing something that appears both perforated and, um, tasseled? Oy. And Jennifer Lopez just annoys us. Also, she suffers from Beyonce look-alike-dress syndrome. (Also, she is married to Marc Anthony.) These women all need a new look in a bad, bad way.


The Ugly: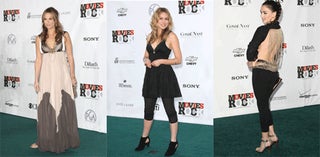 S

L to R: What threw up and died on Molly Sims? What 80's time machine did Sarah Carter step out of? And what the fuck happened to the back of Paz Vega's top? These women might be better off naked!