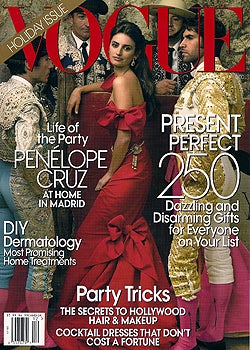 "I feel like a bad Mormon," Kristina Stewart Ward begins her first -person essay in this month's Vogue. See, she just hired a nanny. Mormons don't have nannies! But she is not just any Mormon; she's a former editor at Hamptons magazine! And most of her Upper East Side friends "average one nanny per child (no really: one child, one nanny; two children, two nannies, and so on)." How many children does Kristina have? One. She's pregnant with another, though! And so it goes. For a few thousand words. Kristina is Mormon, and a ridiculous socialite. Out in the town, they used to call her "No sex and the City." Does she struggle with all the materialism/consumerism/greed/superficiality/vanity of the fashion industry? Nah. Does she struggle with her faith? Nah on that too!
While we are very much a Christian religion (the Church of Jesus Christ of Latter-day saints is Mormonism's official name), we don't believe that God stopped speaking to man after the last page of the New Testament. It's a lot for a young person to swallow, but I accepted it...Some Christians feel about the Book of Mormon roughly what the Jewish community feels about the New Testament.
UMMMMmmmm, show us your ruins, bitch!
Show us your history of religious strife over sacred grounds! Why don't you try using Joseph Smith to sell a grilled cheese sandwich for thousands of dollars on eBay? You know what Christians think of the Book of Mormon? "Hotel room accessory placed next to the Bible" is what they think. And that's where they're finally right on something!
So the rest of those stories is one of those, "I live in two different worlds, which would seem on the outset to be at odds with one another and here's how I reconcile it" pieces. Like the one about the Israeli doctor who shoots Palestinians as an Air Force officer at night night and saves their babies during the day? Um yes! Only where the unifying theme in that guy's life was his quest for adrenaline, the unifying theme in this lady's life seems to be, um, that she is a sanctimonious undermining asshole.