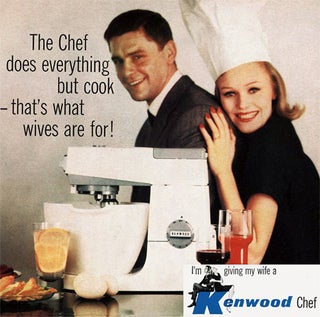 S
Today's Daily Mail runs excerpts from a new book, You Mean A Woman Can Open It?: The Woman's Place In The Classic Age Of Advertising which features those oldies but goodies we're oh-so fond of. It's hard to imagine a world in which advertisers actually got away with this stuff: A car ad with a ditzy-looking broad claims an automobile is "for simple driving"; a coffee ad features a wife about to be spanked by her husband for "taking chances on getting flat, stale coffee." And, most disturbing of all, a postage meter ad from 1953 has the headline "Is it always illegal to KILL a woman?" (The copy reads "Husband furious because you've missed the post? The Pitney-Bowes Postage Meter prints the stamp and seals the envelope all in one go.") (These ads may seem outrageous, but have you seen the billboard a concrete company ran recently?)
The following questions come to mind when looking at these ads: Did men really think this way? Did these ads work, meaning did the men and women they were meant for actually buy the message, and the product? Did women viewing these ads feel the sting of embarrassment and anger they prompt from us now? Have we come very far at all, considering the strippers, airheads and disembodied skirts we've got today?
The Outrageously Politically Incorrect Adverts From The Time Equality Forgot [Daily Mail]
Related: Killing Your Wife is the Best Gift You Can Give Yourself This Holiday Season [Shakesville]
Earlier: Aussie Chicken: Finger Strippin' Good
In Australia, The Perfect Woman Is Cold-Hearted & Knows How To Clean
Speechless.