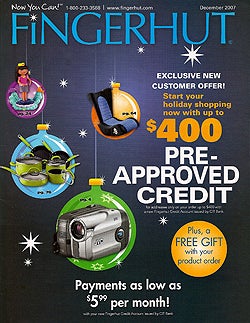 The Fingerhut catalog is not a myth! It exists, and it is endlessly entertaining. Ready to find Christmas presents for everyone on your list? After the jump, the silly, the sublime and the downright sinful.
For your nephew:
Instead of getting trampled while trying to pick up Guitar Hero III, why not order a real guitar? Bonus points if he has hippie leanings. Include sheet music of "Blowing In The Wind."
($39.99-$99.99)
For your friend's kid with ADD:
Moon shoes will let her bounce around the house with wild abandon — and anyone under 180 lbs. can try 'em!
($39.99)
For your cousin who takes karate and loves conspiracy theories:
Anything on this page! Nurture her Kill Bill obsession with a "fantasy" knife set (throwing star included!), $49.99; help her spy on the neighbors with a telescope, $69.99; encourage her to become a bounty hunter with this horrifyingly realistic semi-automatic air pistol, $89.99; she and her brother can play "Fallujah" with a fully-automatic "M16" air rifle, $69.99. Her parents may stop speaking to you, but isn't that what you secretly hope for?
For your significant other:
As we've mentioned before, nothing says "I love you, but you're always on the freakin couch in front of the damn TV" like an acrylic/polyester/cotton "cuddlewrap." The wolf design is especially classy. ($24.99-$39.99)