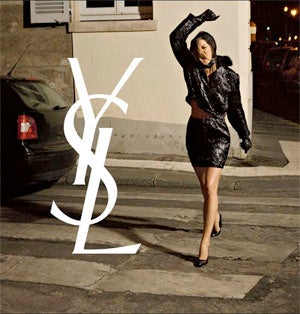 A few months back a curious thing happened to a big luxury brand executive: she began questioning what the crap the point of all those logos was. So she quit her job at Yves St. Laurent and got a new job working someplace slightly less offensive so she could go all existential in today's Huffington Post:
I remember a lunch conversation with my dear friend ... around the art of the brand. Logo'ed luxury items were top sellers, but why? Was it simply to send a message about status and class? ... As this was happening in my outer world, something was happening inside. Of course I was deeply proud to represent a major designer house, founded by one of the most brilliant designers in history. At first I was proud to have the ability to buy and wear $900 pants, $1,000 blouses...But over time I started to pay more attention to the push pull inside of me every time I put my credit card on the counter. In order to continue to stay current season after season, it seemed I 'required' more. Another pair of shoes. That dress. Yes, it was fun at first. But over time all of this started to feel deeply 'out of proportion' - it was all out of proportion with what it meant to me as a human being. Was that blouse really worth $1,000? Even if I could afford it, did I WANT to???
The executive, Claudia Cividino, also notably wonders when it happened that luxury brands became about "status" and "class-chasing" — as opposed to craftsmanship, quality. Oh Claudia! I know they burned all the books, but I saved a copy of this little 1958 publication called The Affluent Society just for you!
It was written by Cosmo bachelor of the year 1977 John Kenneth Galbraith, and because I was feeling geeky today I decided to just excerpt the parts I found relevant to your personal crisis.