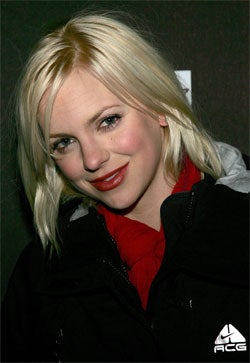 *Inspired by Shirley MacLaine's assertion that the best parts for actresses fall into one of the above categories.
Poor Anna Faris. Sick of being typecast by male Hollywood executives as the stupid girl who gets
regularly assaulted for comedic effect
, the 30-year-old actress
is developing
her own starring role as a sad girl who gets regularly assaulted for dramatic effect. Faris, who will also be seen in the upcoming comedy
I Know What Boys Like
, playing a
former Playboy bunny
, is so eager to be taken seriously as an actress that she's planning on starring as former porn star Linda Lovelace in the drama
Inferno
.
Faris says that playing Lovelace — the star of Deep Throat who later became an anti-pornography crusader and issued allegations of emotional and physical abuse against the film's producers — "would be cool for me to do." This, of course, comes just 10 months after Faris told the NY Times' Sara Corbett that her mother would love for her to take roles that are "less embarrassing." Ugh. Hollywood.
Anna Faris Plans To Get 'Deep' With Porn-Star Biopic [MTV]
Related: The Ditz Ghetto [NY Times]