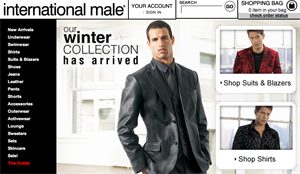 The first time I saw an International Male catalog was at the all-girls Virginia boarding school I attended in the 1980s. The cool girls — the ones who owned their own horses and got BMWs for their 16th birthdays, with car-size bows on top — got the catalog in their mailboxes, along with subscriptions to GQ. The uncool girls, if we were lucky, got to peer over their shoulders at pictures of male models in thong bikinis. I found the presentation of male genitalia, packaged and posed and seemingly aroused, totally terrifying. Were they really that long and tuber-like? And were men supposed to stare at you in such a brooding, animal way, their eyes glowering at siesta level, their mouths puckered in baby-doll O's?
So
wrote
NY Times
reporter/socialite Alex Kuczynski in yesterday's
T: Style
magazine in an essay about the catalog. Having never heard of International Male before [
What are you? 23? Oh, yeah. -Ed.
] I went to take a look myself at what Barneys Creative Director Simon Doonan describes as a catalog full of "objectified men". My favorite images from the current catalog, after the jump.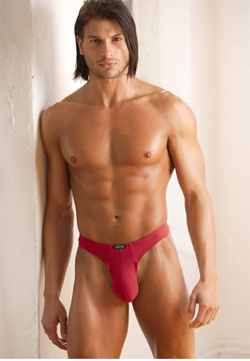 New Push-up Thong: Padding hidden inside lifts you up and out. ($23)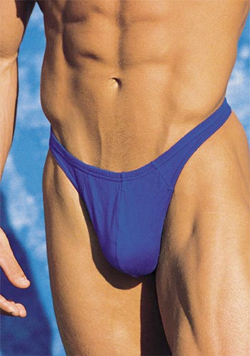 Contour Thong: Our famous Contour underwear with a sleek thong back. The V-seam pouch is contoured for a natural look and terrific support. Machine wash. Cotton jersey. Import. ($8)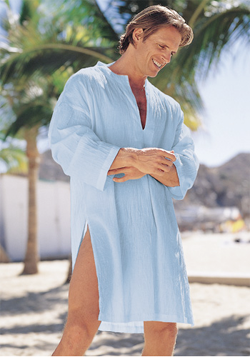 Gauze Caftan: Think of all the occasions you have to wear such a comfortable piece of clothing: the beach, the pool, Sunday mornings at home, late at night. Oh the comfort. Made from a lightweight and airy cotton gauze. Loose, full sleeves. Deep cut neck. Side slits. ($29)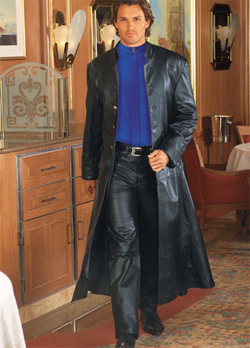 Times Square Leather Trenchcoat: 120 square feet of soft lamb leather. 56" long. Single-breasted. Banded collar. Silvertone buttons run from collar to waist. Darted/pleated back. 5" long leather cuffs. On-seam pockets. Slightly padded shoulders. 3/4 polyester lining. ($399)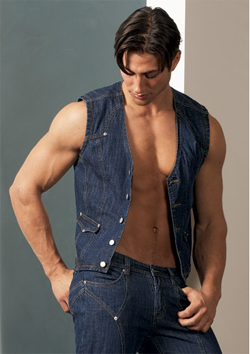 UNDERGEAR® Kensington Denim Vest: Flap pockets, metal buttons down the front. Cotton denim. Machine wash. ($45)
Nude Awakening [NY Times]