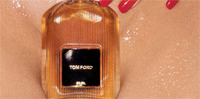 Take that, Molly Simms! Alice + Olivia serves cupcakes that say "Eat Me"? You really have to go back and research the origin of this ongoing feud to understand why this is funny or bitchy or just plain brain cell killing but if you're anything like us you probably just feel like a cupcake right about now. [WWD, 2nd item]
Celebs are doodling on Stuart Weitzman shoes to benefit ovarian cancer research. [Fashion Week Daily]
International Herald Tribune fashion critic Suzy Menkes eats carbs. [Fashion Week Daily]
Thank G-d: Today is the last day of New York Fashion Week! And, uh, Erev Rosh Hashana?