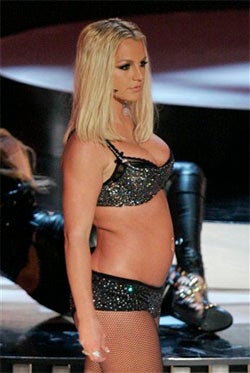 For months, some of us have been defending Britney Spears to friends, neighbors, doormen... anyone who would listen, but even we were starting to question our position especially after the shit-show that was Sunday night's VMA's. Not any more. In today's Salon, writer Rebecca Traister shares our sad fury over the sleepwalking-like performance that Spears turned in:
This weekend was actually pretty hard to watch. A gross example of exactly how much malicious satisfaction we get out of the embarrassing weakness of an addictive, postpartum, out-of-control mess of a human being. But as sad as anything is that the young musician shows zero interest in making it stop.
And:
Britney embodies the disdain in which this culture holds its young women: the desire to sexualize and spoil them while young, and to degrade and punish them as they get older. Of course, she also represents a youthful feminine willingness — stupid or manipulated as it may be — to conform to the culture's every humiliating expectation of her.
Traister also echoes our dismay over the media's focus on Britney's weight: