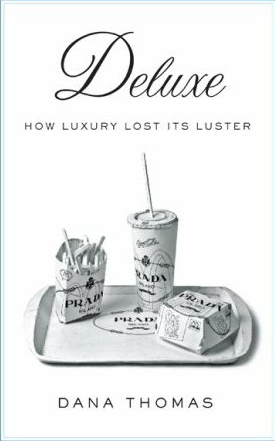 "Luxury"? A fallacy. At least that's what Dana Thomas concludes in her new, widely-publicized book Deluxe, reviewed by Michiko Kakutani in today's New York Times. And apparently Prada is to blame! Those nylon backpacks spotted everywhere in the 90's? They were at so low a price point ($450) that tons people bought them, thereby making the concept of "luxury" available to the masses. Kakutani's review notes that Deluxe is not only very good but very easy to read ("a crisp, witty social history that's as entertaining as it is informative") but, most importantly, Kakutani takes the opportunity to give a slight, backhanded bitchslap to Vogue editor Anna Wintour:
Although this volume quotes Anna Wintour, the editor of 'Vogue', saying such changes mean that 'more people are going to get better fashion' and 'the more people who can have fashion, the better,' the author reaches a more elitist and pessimistic conclusion...[Thomas concludes] 'Luxury has lost its luster.'
Incidentally, this is reason #382 why we have a massive girl crush on Michiko Kakutani. And now Dana Thomas, too.
The Devil Wears Hermès (He Bought It at the Caesars Palace Mall in Las Vegas)
[NYT]