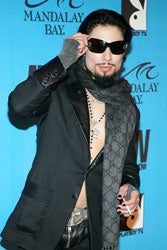 It was announced today that Dave Navarro will direct his first porno, Broken, for Teravision, the adult entertainment company owned by porn star Tera Patrick and her husband, ex-Biohazard bassist Evan Seinfeld. The film stars teen porn star Sasha Grey, whom we love. Navarro makes an appearance on camera, but not because he's having sex. Apparently, he filmed himself directing the scenes. Plus, he's being really pretentious about the whole thing:
What happens is, the film breaks fantasy and goes back into reality and you're actually on the set, so my interaction is mainly me giving Sasha direction. If anything, there's definitely an artistic flair and sensibility throughout the picture that might at times appear self-indulgent - I hope so!
Also, there are no scripted lines in the film. So it's kinda like
Curb
in that way?
Broken
comes out at the end of September.
Dave Navarro Directs for Teravision
[AVN]
Related:
Sasha Grey Insider interview
[YouTube]