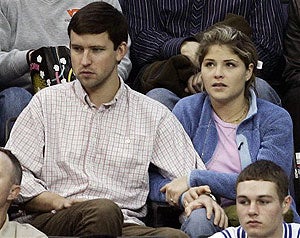 This afternoon, from the Bush compound in Crawford, Texas, came the news that First daughter Jenna Bush and her boyfriend of two years, Karl Rove minion and Republispawn Henry Hager, are engaged and immediately, an angry rain threatened to overcome the entire state of Texas. Not that those incidents were related! Because unlike some people, we don't really believe there's guy in the sky who controls the weather. (Speaking of splashes, an over-the-top wedding does not a happy marriage make!) Anyway, if they manage to weather the storm, here's the shit Jenna and Henry can look forward to as they begin their life together:

It's not looking too good for Republican folks in Washington. [Washington Post]
But at least Jenna and Henry don't live in Iraq, where many women have been forced to sell their bodies in order to feed their kids. [CNN]
And we know Jenna wants kids. Assuming she can have them. Let's hope she's not infertile. Because IVF could bring up some pretty big issues for her. [Salon]
Also, we hope both she and Henry are prepared for the fact that they are not going to be having a ton of sex in the future. According to the Red Hot Mamas organization's Sex and Menopause Survey, over half of women report a decrease in sex drive during menopause, and 44% report suffering from vaginal atrophy—their vaginas just like, dry up and it hurts too much to have sex. Ugh. [Reuters]
Anyway! Congratulations Henry! Best wishes Jenna!