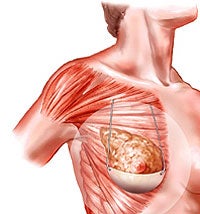 Some of us really need support. From bras, that is. But over on Feministe, we read about the "internal bra" and shuddered. Developed in Israel and tested on pigs (uh, is that Kosher?), the "internal bra" works via a surgically-attached harness on the ribcage. According to news aggregator Israel21c, the MIM (Minimally Invasive Mastopexy), also known as the "Cup&Up," is safer and less damaging than other popular breast procedures, combatting sagging and giving breast tissue the support that it needs. Dr. Eyal Gur, who invented the concept, swears it's not so bad!
"It may sound scary but take a look at cosmetic and plastic surgery — that's much more invasive," said Gur. "The most prevalent procedure in the world is breast implantation. Who is the crazy woman who agreed to be the first woman to put silicon into her body? Very strange things happen within the cosmetic world and the MIM is not as crazy as it sounds; that's the end point of what I'm saying."
Hmm, he has a point! Soon the MIM will be tested in actual humans (right now, the pigs, who have silicone implants being supported by MIMs, are testing for "strength, fatigue and endurance," since "the device in the body will have to endure running, spinning bike riding." Not to mention bounding up — or down — a flight of stairs and jumping up and down. Go little piggies!). No one has mentioned how this thing feels to the touch, or what happens if one of the little harness strings snaps. But it's minimally invasive and pork-tested. Who wants to sign up?
Thinking Outside The Bra
[Feministe] Related:
Israel's 'Cup&Up' Promises Uplifting Breasts Without The Surgical Risk
[Israel21c] Earlier:
Bra Science: Hope For Those Whose Cups Runneth Over