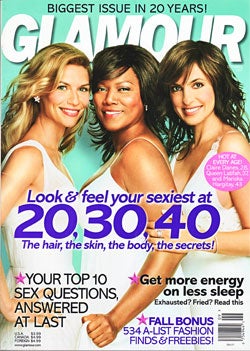 September issues are coming! September issues are coming! Some are already here. Editors prefer blondes, reports WWD's "Memo Pad". But don't worry: Editors also like trainwrecks and brunettes! A rundown:

Vogue: Sienna Miller (blonde)

InStyle: Gwen Stefani (blonde)

W: Gwyneth Paltrow (blonde)

Marie Claire: Ashley Olsen (blonde)

Vanity Fair: Gisele Bundchen (blonde)

Bazaar: Kate Hudson (blonde)

Allure: Britney Spears (trainwreck)
Elle: Lindsay Lohan (trainwreck)
Cosmopolitan: Jessica Alba (brunette)
Redbook: Brooke Shields (brunette)
Glamour: Claire Danes, Mariska Hargitay, Queen Latifah (a puu-puu platter: something for everyone!)
Lucky: Sarah Michelle Gellar (brunette)
Seventeen: Ashlee Simpson (blonde)
CosmoGirl: Ashley Tisdale/Zac Efron (blonde & a dude)
Teen Vogue: Anne Hathaway (brunette)
Out of 15 covers, 8 feature blondes, and there is one woman of color, wedged between a blonde and a brunette. How's
your
self-esteem this morning?
MemoPad
[WWD]