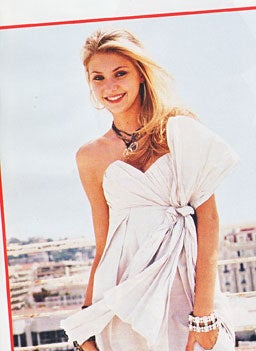 Meet actress Taylor Momsen. She's 14 years old, 98 pounds, and slated to star in the upcoming Gossip Girls TV show, based on the bestselling young adult literature series also known as Satanic Verses, which centers around a group of fictional teenage girls similar to the fictional teenage girls who actually relate to Teen Vogue. Needless to say, the Teen Vogue staff is extremely excited about Taylor and the Gossip Girls series, about which Teen Vogue beauty director Eva Chen just wrote: "I have never been more excited." But there's a dissenting opinion about young Taylor in the Teen Vogue ranks! In the September print edition of the magazine, gay-sexy 'Style Blogger' Kimball Hastings, who refers to himself in the third person as "S.B." in print, writes of his efforts to style young Taylor, an endeavor that made him just a little annoyed.
"Would I be able to play Pygmalion with Taylor Momsen ... ? Well S.B. didn't get off to a good start. A clothing rack of red-carpet regulars failed to capture Taylor's attention."I'm an individualist" she said dodging every de rigeur dress shape (sack, trapeze, bubble be damned!). Oh dear S.B. completely misjudged the situation. This was no Eliza Doolittle in need of Henry Higgins. "I have two favorite pairs of Miu Miu shoes—both with silver sparkles," she exclaimed. "I'm kind of out there." Then S.B. would go the distance. Several fittings and umpteen test Polaroids later, we had a winner: a draped Doo.Ri jersey dress. Never mind that Taylor hadn't heard of the New York-based designer before."
Ooooooh, snap! That'll show the ignorant little overprivileged snot who embodies everything Teen Vogue stands for!