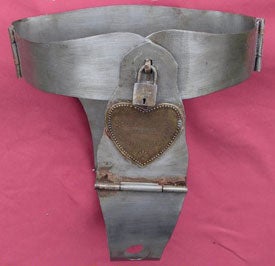 Based on the growing popularity of youth-based abstinence programs like the Silver Ring Thing, Heather Seamen (heh heh), a reporter for the UK tabloid the Daily Mail, decided to interview six celibate British women who haven't had sex for a combined total of 33 years. A few of us here are admittedly promiscuous (hell, my name ain't Slut for nothin') and proud of it, but we'd never knock other girls for preferring to put the cow for sale, rather than give the milk away for free, so long as it makes them happy. You know, different strokes for different folks! However, the six women Ms. Seamen interviewed admitted that they're laying off of getting laid because their sex drives have either diminished, or just weren't there to begin with. So it would seem that celibacy is choosing them rather than the other way around. But you be the judge: After the jump, meet 20-to-40-somethings Sarah, Loren, Mandy, Denise, Sue and Beverly.
Sarah, 26
This chick hasn't had sex for a year, despite the fact that she has a live in BF, who she's been with since she was 19. He goes out every night immediately after work to DJ in clubs and doesn't come home till 2 am, where he sleeps in a separate room. They used to bang three nights a week, but now they're both tired from work. Sarah isn't worried that he'll ever cheat on her, because he said he "loves" her.
Loren, 29
After breaking up with her first boyfriend five years ago, Loren hasn't had sex since. She says needs to be in love to bang, and that's understandable, but she's a bit preachy about other girls who don't have such hangups. ("I think being promiscuous can damage your self-esteem.") She doesn't like dating and she's afraid of getting into another relationship. Frankly, she sounds like a stick in the mud. She was set up on a date with a handsome guy who bought her drinks in a club. Then he offered her drugs. "It was a disaster." Disaster? He sounds dreamy!
Mandy, 41
This lady went into early menopause at 36. Sucks, right? [Ugh. maybe she smoked too much? -Ed.] She was with the same guy for nine years, but when she went through the change, her libido plummeted and they stopped fucking. She thinks it was a major reason of their breakup. Now she uses some sort of oil on her clit that stimulates it and she's been getting back in the mood and is seeing a new guy. (Why the hell did the Daily Mail profile her? She's totally gonna get it on by the end of this week!)