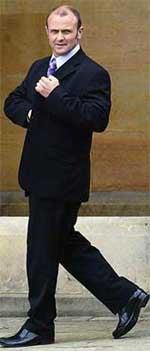 The dashing fellow at left, Andrew Shovelar, is a policeman in England with great taste in clothes but bad taste in, well, morals. Shovelar, 39, is currently facing allegations of physical and mental abuse of his 37-year-old girlfriend, Tracey. In addition to claims of name-calling and physical violence — including kicking, hitting, strangling and throwing things — Andrew was a bit of a controlling sort, says Tracey.
'I wasn't allowed to talk to him for the first 30 minutes after he got home from work.'...She said that if PC Shovelar was in the living room he insisted on being alone.' When he was not at work I had to drive around in the car all day so he could be at on his own. I couldn't go back until he had gone to work.
Uh,
wow
. Thank
god
that Tracey finally got rid of him, right? But what to do about that other problem, you know, the one where she was introduced to Andrew by mutual friends???!!!
Tyrant PC's Ground Rules For His Girlfriend: 'Don't Speak When I Come Home'
[DailyMail]