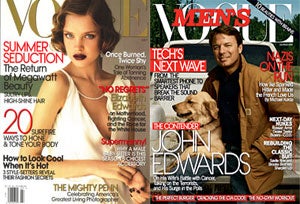 Conde Nast's Vogue empire is notoriously micromanaged by Anna Wintour, so it did not surprise us that John and Elizabeth Edwards were profiled extensively in the July issues of Men's Vogue and Vogue, respectively, though Elizabeth did not get the cover, presumably because she is not as pretty as her husband. And speaking of pretty, how about those controversial haircuts? Well according to Elizabeth in Vogue:
[Elizabeth] says she has no intention of apologizing... for her husband's $400 haircuts. "The truth is we didn't know how much it was, and we didn't know that it was being charged to the campaign."
Which is sort of weird, because as Men's Vogue points out, Beverly Hills stylist Joseph Torrenueva "has already said that Edwards is a 'longtime client'—it's not accident that he got a $400 haircut; he just got busted," and as Edwards himself said during a public appearance:
"It's a ridiculous amount of money for a haircut. I'm actually embarrassed by it.
Eh, we're saving our embarrassment for Vogue writer Julia Reed, who not only spares readers any insight into Elizabeth Edwards' cancer but censors some more egregious details of the Edwardses profligacy: On that $6 million monstrosity in North Carolina that the Edwardses just erected, what Men's Vogue sees as a liability with less-privileged voters, Vogue sees as... a perfectly understandable upgrade! According to Vogue: