*Inspired by Shirley MacLaine's assertion that the best parts for actresses fall into one of the above categories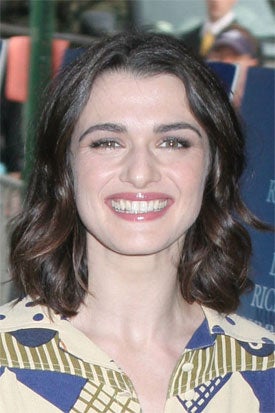 Lots of news about how Hollywood casts its actresses today! The lovely and strangely-skinny
Rachel Weisz
has just inked a deal to play the mother of a raped and murdered young girl in Peter Jackson's film adaptation of Alice Sebold's bestseller
The Lovely Bones
,
reports
The Hollywood Reporter
. Another Oscar-winning brunette,
Jennifer Connelly
, has just signed on (alongside husband Paul Bettany) to play a devoted wife whose "life is shaken when [her] husband, a claymation artist, discovers his characters are acting out a nightmare that comes to life,"
reports Variety
. And in what must be the one of the most complimentary trade reports ever, the
Reporter
is also announcing
that
Alice Braga
(niece of Sonia) will play "the girl with the dark glasses" in an upcoming apocalyptic drama starring Julianne Moore, Mark Ruffalo and Gael Garcia Bernal. Honestly, why give Braga's character a name? She'll no doubt either scream and wail or remain mute throughout the entire movie anyway!