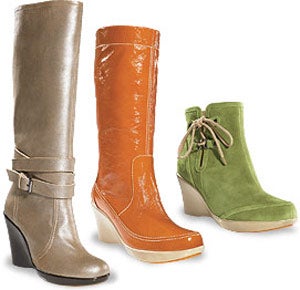 OMG!!! Crocs, maker of comfy-anti-chic (yay for rebel style! fight the man!) clog-sandal hybrids (a clandal? a slog?) is expanding its brand and launching a full-out line of Crocs-branded footwear. With price-points ranging from $149 to $299 you've got to admire the way that Crocs wants consumers to drain their wallets in the name of slacker style. The top 5 reasons why we can't wait for the next in rubber shoes, after the jump.
1. Sienna Miller for Tod's? Scarlett for Louis Vuitton? Child's play. We want to see big man on the restaurant campus and noted Crocs-wearer Mario Batali starring in the ad campaign. We're envisioning a Mario Testino (Mario + Mario!) photo shoot in which a scantily-clad Batali stirs up some real fires in the kitchen wearing the new Crocs fashions. Yes, we realize the line is for women. But Batali in drag? We'd buy anything with that image behind it.
2. As we discussed yesterday, you could wear rubber on your feet in an 80's throwback kind of way. But why pay homage to a style from decades past when you could we wearing less-fashionable clonkers on your feet in brand new styles? Poor judgment regarding inadequately-ventilated footwear is always in style, clearly!